Study: Workers are ghosting employers (why are you surprised?!)
(BUSINESS NEWS) A new study "reveals" that employees are ghosting employers, but y'all, this isn't new (and it CAN be fixed).
Well, well, well, looks like some Boomers learned what ghosting means and published a study about how Millennials do it all the time in jobs. Are we surprised?

Here's the sad truth, though: this has always been an issue with low-paying jobs.

Income inequality is at one of its highest points in modern American history, and with many jobs involving low wages, long hours, and service-oriented roles, it's easy for an employee to walk out when it's a less than ideal working environment.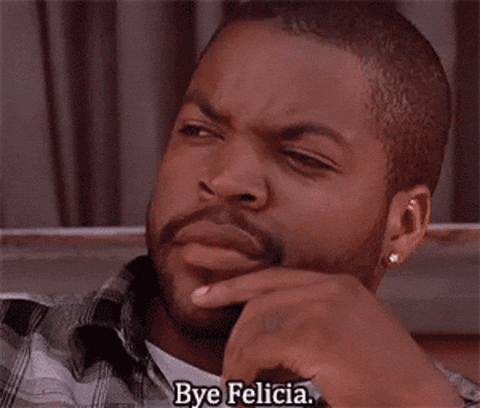 With a lack of fair-paying jobs and an abundance of low-paying, minimum wage jobs, it's easy for employees to come and go as they please — often without telling their employers. When it comes to crappy jobs, in the words of Jay Z, on to the next one.

I know what you're thinking: as an entrepreneur, you're already strapped for cash and everyone's probably already working the job that three employees would typically perform, so how are you supposed to run a heckin' company with like, no money, and employees that ghost?

We have a few ideas on how to make your work environment so employees don't peace out at the first sign of trouble. Stick with us here.
Pay attention to your culture.

Your culture is always going to be created top-down, meaning, you get to set the tone. No job is perfect, even ones you create for yourself, so ask yourself: are your employees having fun? Do they like each other? Are you having fun? Do you like what you do? If not, what do you need to change to make the answers to these questions a resounding yes.

If you're constantly stressed, that's going to trickle down to your employees. Make sure you cultivate a culture of hard work, kindness, and fun. And that starts with you.

Squash gossip and toxic environments.

Work politics suck. We all know this. And yet, it still exists everywhere. In small companies, one employee can make or break the whole environment. If you hear employees gossiping — or even griping to you — squash it immediately and kindly let it be known it won't be tolerated. If an employee continues to cultivate a toxic environment, it's time to let them go.

Allow generous time off and flexible schedules.

If you can't pay your employees handsome wages, try to give them flexibility when it comes to work schedules and time off. This will be one of your biggest secret weapons, you management ninja, you.

If you allow an employee to take off (within reason) for doctors' appointments, sick days, and much-needed R&R, it'll definitely be noticed and appreciated. Allow them to work remotely when needed and work the hours where they'll be the most productive. But most of all — simply trust them, and people will knock down your door to work for you.

Allow growth opportunities.

Make sure to set aside plenty of time to talk with employees and hear their likes, dislikes, and concerns about their jobs. Find out what they love to do, and give them opportunities to grow in those areas and take ownership of them. Do they love social media? Live for spreadsheets? Let them take small projects or help them find mentors. Encourage them to attend local meetups and conferences.

Thank your employees.

No employee likes a stressed-out tyrant. What have you done lately to truly thank your employees?

It doesn't have to be a Chuck-E-Cheese style pizza party, but find both small and big ways to know your employees you're thankful for them. It can include paying for a round at a team happy hour, generous employee discounts, or simply saying thank you for all of their hard work, and how specifically you've appreciated their efforts. Be authentic and genuine, and it'll go a long way.

How have you made your company a great place to work and avoid losing talent?

Big retailers are opting for refunds instead of returns
(BUSINESS NEWS) Due to increased shipping costs, big companies like Amazon and Walmart are opting to give out a refund rather than accepting small items returned.
The holidays are over, and now some people are ready to return an item that didn't quite work out or wasn't on their Christmas list. Whatever the reason, some retailers are giving customers a refund and letting them keep the product, too.
When Vancouver, Washington resident, Lorie Anderson, tried returning makeup from Target and batteries from Walmart she had purchased online, the retailers told her she could keep or donate the products. "They were inexpensive, and it wouldn't make much financial sense to return them by mail," said Ms. Anderson, 38. "It's a hassle to pack up the box and drop it at the post office or UPS. This was one less thing I had to worry about."
Amazon.com Inc., Walmart Inc., and other companies are changing the way they handle returns this year, according to a report by The Wall Street Journal (WSJ). The companies are using artificial intelligence (AI) to weigh the costs of processing physical returns versus just issuing a refund and having customers keep the item.
For instance, if it costs more to ship an inexpensive or larger item than it is to refund the purchase price, companies are giving customers a refund and telling them to keep the products also. Due to an increase in online shopping, it makes sense for companies to change how they manage returns.
Locus Robotics chief executive Rick Faulk told the Journal that the biggest expense when it comes to processing returns is shipping costs. "Returning to a store is significantly cheaper because the retailer can save the freight, which can run 15% to 20% of the cost," Faulk said.
But, returning products to physical stores isn't something a lot of people are wanting to do. According to the return processing firm Narvar, online returns increased by 70% in 2020. With people still hunkered down because of the pandemic, changing how to handle returns is a good thing for companies to consider to reduce shipping expenses.
While it might be nice to keep the makeup or batteries for free, don't expect to return that new PS5 and get to keep it for free, too. According to WSJ, a Walmart spokesperson said the company lets someone keep a refunded item only if the company doesn't plan on reselling it. And, besides taking the economic costs into consideration, the companies look at the customer's purchase history as well.
Google workers have formed company's first labor union
(BUSINESS NEWS) A number of Google employees have agreed to commit 1% of their salary to labor union dues to support employee activism and fight workplace discrimination.
On Monday morning, Google workers announced that they have formed a union with the support of the Communications Workers of America (CWA), the largest communications and media labor union in the U.S.
The new union, Alphabet Workers Union (AWU) was organized in secret for about a year and formed to support employee activism, and fight discrimination and unfairness in the workplace.
"From fighting the 'real names' policy, to opposing Project Maven, to protesting the egregious, multi-million dollar payouts that have been given to executives who've committed sexual harassment, we've seen first-hand that Alphabet responds when we act collectively. Our new union provides a sustainable structure to ensure that our shared values as Alphabet employees are respected even after the headlines fade," stated Program Manager Nicki Anselmo in a press release.
AWU is the first union in the company's history, and it is open to all employees and contractors at any Alphabet company in the United States and Canada. The cost of membership is 1% of an employee's total compensation, and the money collected will be used to fund the union organization.
In a response to the announcement, Google's Director of People Operations, Kara Silverstein, said, "We've always worked hard to create a supportive and rewarding workplace for our workforce. Of course, our employees have protected labor rights that we support. But as we've always done, we'll continue engaging directly with all our employees."
Unlike other labor unions, the AWU is considered a "Minority Union". This means it doesn't need formal recognition from the National Labor Relations Board. However, it also means Alphabet can't be forced to meet the union's demands until a majority of employees support it.
So far, the number of members in the union represents a very small portion of Google's workforce, but it's growing every day. When the news of the union was first announced on Monday, roughly 230 employees made up the union. Less than 24 hours later, there were 400 employees in the union, and now that number jumped to over 500 employees.
Unions among Silicon Valley's tech giants are rare, but labor activism is slowly picking up speed, especially with more workers speaking out and organizing.
"The Alphabet Workers Union will be the structure that ensures Google workers can actively push for real changes at the company, from the kinds of contracts Google accepts to employee classification to wage and compensation issues. All issues relevant to Google as a workplace will be the purview of the union and its members," stated the AWU in a press release.
Ticketmaster caught red-handed hacking, hit with major fines
(BUSINESS NEWS) Ticketmaster has agreed to pay $10 million to resolve criminal charges after hacking into a competitor's network specifically to sabotage.
Live Nation's Ticketmaster agreed to pay $10 million to resolve criminal charges after admitting to hacking into a competitor's network and scheming to "choke off" the ticket seller company and "cut [victim company] off at the knees".
Ticketmaster admitted hiring former employee, Stephen Mead, from startup rival CrowdSurge (which merged with Songkick) in 2013. In 2012, Mead signed a separation agreement to keep his previous company's information confidential. When he joined Live Nation, Mead provided that confidential information to the former head of the Artist Services division, Zeeshan Zaidi, and other Ticketmaster employees. The hacking information shared with the company included usernames, passwords, data analytics, and other insider secrets.
"When employees walk out of one company and into another, it's illegal for them to take proprietary information with them. Ticketmaster used stolen information to gain an advantage over its competition, and then promoted the employees who broke the law. This investigation is a perfect example of why these laws exist – to protect consumers from being cheated in what should be a fair market place," said FBI Assistant Director-in-Charge Sweeney.
In January 2014, Mead gave a Ticketmaster executive multiple sets of login information to Toolboxes, the competitor's password-protected app that provides real-time data about tickets sold through the company. Later, at an Artists Services Summit, Mead logged into a Toolbox and demonstrated the product to Live Nation and Ticketmaster employees. Information collected from the Toolboxes were used to "benchmark" Ticketmaster's offerings against the competitor.
"Ticketmaster employees repeatedly – and illegally – accessed a competitor's computers without authorization using stolen passwords to unlawfully collect business intelligence," said Acting U.S. Attorney DuCharme in a statement. "Further, Ticketmaster's employees brazenly held a division-wide 'summit' at which the stolen passwords were used to access the victim company's computers, as if that were an appropriate business tactic."
The hacking violations were first reported in 2017 when CrowdSurge sued Live Nation for antitrust violations. A spokesperson told The Verge, "Ticketmaster terminated both Zaidi and Mead in 2017, after their conduct came to light. Their actions violated our corporate policies and were inconsistent with our values. We are pleased that this matter is now resolved."
To resolve the case, Ticketmaster will pay a $10 million criminal penalty, create a compliance and ethics program, and report to the United States Attorney's Office annually during a three-year term. If the agreement is breached, Ticketmaster will be charged with: "One count of conspiracy to commit computer intrusions, one count of computer intrusion for commercial advantage, one count of computer intrusion in furtherance of fraud, one count of wire fraud conspiracy and one count of wire fraud."