Study: Workers are ghosting employers (why are you surprised?!)
(BUSINESS NEWS) A new study "reveals" that employees are ghosting employers, but y'all, this isn't new (and it CAN be fixed).
Well, well, well, looks like some Boomers learned what ghosting means and published a study about how Millennials do it all the time in jobs. Are we surprised?

Here's the sad truth, though: this has always been an issue with low-paying jobs.

Income inequality is at one of its highest points in modern American history, and with many jobs involving low wages, long hours, and service-oriented roles, it's easy for an employee to walk out when it's a less than ideal working environment.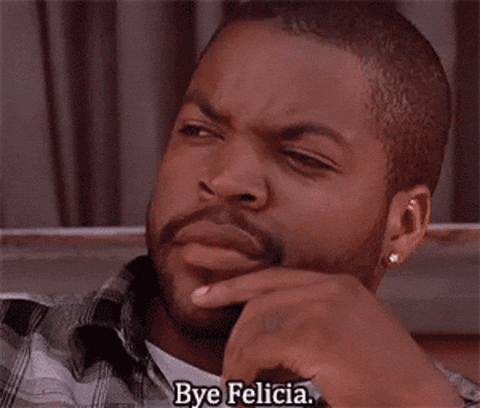 With a lack of fair-paying jobs and an abundance of low-paying, minimum wage jobs, it's easy for employees to come and go as they please — often without telling their employers. When it comes to crappy jobs, in the words of Jay Z, on to the next one.

I know what you're thinking: as an entrepreneur, you're already strapped for cash and everyone's probably already working the job that three employees would typically perform, so how are you supposed to run a heckin' company with like, no money, and employees that ghost?

We have a few ideas on how to make your work environment so employees don't peace out at the first sign of trouble. Stick with us here.
Pay attention to your culture.

Your culture is always going to be created top-down, meaning, you get to set the tone. No job is perfect, even ones you create for yourself, so ask yourself: are your employees having fun? Do they like each other? Are you having fun? Do you like what you do? If not, what do you need to change to make the answers to these questions a resounding yes.

If you're constantly stressed, that's going to trickle down to your employees. Make sure you cultivate a culture of hard work, kindness, and fun. And that starts with you.

Squash gossip and toxic environments.

Work politics suck. We all know this. And yet, it still exists everywhere. In small companies, one employee can make or break the whole environment. If you hear employees gossiping — or even griping to you — squash it immediately and kindly let it be known it won't be tolerated. If an employee continues to cultivate a toxic environment, it's time to let them go.

Allow generous time off and flexible schedules.

If you can't pay your employees handsome wages, try to give them flexibility when it comes to work schedules and time off. This will be one of your biggest secret weapons, you management ninja, you.

If you allow an employee to take off (within reason) for doctors' appointments, sick days, and much-needed R&R, it'll definitely be noticed and appreciated. Allow them to work remotely when needed and work the hours where they'll be the most productive. But most of all — simply trust them, and people will knock down your door to work for you.

Allow growth opportunities.

Make sure to set aside plenty of time to talk with employees and hear their likes, dislikes, and concerns about their jobs. Find out what they love to do, and give them opportunities to grow in those areas and take ownership of them. Do they love social media? Live for spreadsheets? Let them take small projects or help them find mentors. Encourage them to attend local meetups and conferences.

Thank your employees.

No employee likes a stressed-out tyrant. What have you done lately to truly thank your employees?

It doesn't have to be a Chuck-E-Cheese style pizza party, but find both small and big ways to know your employees you're thankful for them. It can include paying for a round at a team happy hour, generous employee discounts, or simply saying thank you for all of their hard work, and how specifically you've appreciated their efforts. Be authentic and genuine, and it'll go a long way.

How have you made your company a great place to work and avoid losing talent?

Too connected: FTC eyes Facebook antitrust lawsuit
(BUSINESS NEWS) Following other antitrust hearings, we're expecting to hear more about the FTC's antitrust lawsuit against Facebook, soon.
Facebook might be wishing it had kept the "dislike" button.
On September 15, the Wall Street Journal announced that the Federal Trade Commission was preparing a possible antitrust lawsuit against the social media titan. Although the FTC has not made an official decision on whether to pursue the case, sources familiar with the situation expect a determination will be made on the matter sometime before the end of 2020. Facebook and the FTC both declined to comment when asked about the story.
The news comes following a year-long investigation by the FTC that has looked into anti-competitive practices by the Menlo Park-based company. This past July, the United States House of Representatives held hearings in which they grilled the CEOs of Amazon, Apple, Google, and Facebook regarding their business practices. In August, Facebook CEO Mark Zuckerberg also testified in front of the FTC as part of the department's antitrust probe into the organization.
The FTC seems to be especially interested in Facebook's past acquisitions of WhatsApp and Instagram, which they believe may have been done to stifle competition. In internal emails sent between Zuckerberg and Facebook's former CFO David Ebersman back in 2012, the 36-year-old seemed worried that the apps could eventually pose a threat to the social media conglomerate.
"These businesses are nascent but the networks established, the brands are already meaningful, and if they grow to a large scale the could be very disruptive to us," Zuckerberg wrote to Ebersman, "Given that we think our own valuation is fairly aggressive and that we're vulnerable in mobile, I'm curious if we should consider going after one or two of them."
When Ebersman asked him to clarify the benefits of the acquisitions, Zuckerberg stated the purchases would neutralize a competitor while improving Facebook.
"One way of looking at this is that what we're really buying is time. Even if some new competitors springs up, buying Instagram, Path, Foursquare, etc. now will give us a year or more to integrate their dynamics before anyone can get close to their scale again." Zuckerberg said.
This isn't the first time the FTC has investigated Facebook either. Last year the agency fined the company $5 billion for the mishandling of user's personal information, the biggest penalty imposed by the federal government against a technology company. As a part of the settlement with the FTC in that case, Facebook also promised more comprehensive oversight of user data.
If the FTC does pursue an antitrust suit against Facebook, it could end up forcing the social media giant to spin off some of the companies it has acquired or place restrictions on how it does business. Considering how long it will take to file the litigation and prove the case in a courtroom, however, it seems that Zuckerberg will once again be "buying time."
What you need to know about the historic TikTok deal (for now)
(BUSINESS NEWS) No one really knows what's happening, but the TikTok deal's impact on business, US-China relations, and the open internet could be huge.
So, maybe you've heard that Oracle and Walmart are buying TikTok for national security!
Um, not exactly.
Also, Trump banned TikTok!
Sort of? Maybe?
But then he said he approved the Oracle-Walmart-TikTok deal!
We guess?
The terms of the proposal seem to shift daily, if not hourly. The sheer number of contradictory statements from every player suggests no one really knows what's going on.
Just one example: Trump said the deal included a $5 billion donation to a fund for education for American youth. TikTok parent ByteDance, said, "Say what now?"
Here's what we think we know (as of this writing):
Oracle and Walmart would get a combined 20 percent stake in a new U.S.-based company called TikTok Global. Combine that with current US investors in China's ByteDance, TikTok's parent, that would give American interests 53 percent. European and other investors would have 11 percent. China would retain 36 percent. (On Saturday Trump said China would have no interests at all. But that does not jibe with the reporting on the deal.)
Oracle would host all user data on its cloud, where it is promising "security will be 100 percent" to keep data safe from China's prying eyes. But reporting has differed on whether Oracle will get full access to TikTok's code and AI algorithms. Without full control, skeptics say, Oracle could be little more than a hosting service, and potential security issues would remain unaddressed.
Walmart says they're excited about their "potential investment and commercial agreements," suggesting they may be exploring e-commerce opportunities in the app.
The US Committee on Foreign Investment in the United States, which is overseen by Treasury Secretary Steven Mnuchin, still has to approve any deal.
As for the TikTok "ban" – which isn't really a ban because current users can keep it – the Commerce Department postponed the deadline for kicking TikTok off U.S. app stores to September 27, to give time for the deal to be hammered out. Never mind that it's still not clear whether the U.S. government has authority to do that. Unsurprisingly, ByteDance says it doesn't in a lawsuit filed September 18.
Whatever happens with the whiplash of the deal's particulars, there are bigger issues in play.
According to business news site Quartz, moving data storage to Oracle mirrors what companies like Apple have done in China: Appease the Chinese government by allowing all data hosting to be inside China. A similar move could "mark the US, too, shifting from a more laissez-faire approach to user data, to a more sovereign one," says China tech reporter Jane Li.
More obvious: Corporate sales and mergers are now part of the parrying between the U.S. and China, which adds a whole new playing field for negotiations among businesses.
In the meantime, TikTokkers keep TikTokking. White suburban moms continue to lip sync to rap songs in their kitchens. Gen Z continues to make fun of the president – and pretty much everything else.
And downloads of the app have skyrocketed.
Hobby Lobby increases minimum wage, but how much is just to save face?
(BUSINESS NEWS) Are their efforts to raise their minimum wage to $17/hour sincere, or more about saving face after bungling pandemic concerns?
The arts-and-crafts chain Hobby Lobby announced this week that they will be raising their minimum full-time wage to $17/hour starting October 1st. This decision makes them the latest big retailer to raise wages during the pandemic (Target raised their minimum wage to $15/hour about three months ago, and Walmart and Amazon have temporarily raised wages). The current minimum wage for Hobby Lobby employees is $15/hour, which was implemented in 2014.
While a $17 minimum wage is a big statement for the company (even a $15 minimum wage cannot be agreed upon on the federal level) – and it is no doubt a coveted wage for the majority of the working class – it's difficult to not see this move as an attempt to regain public support of the company.
When the pandemic first began, Hobby Lobby – with more than 900 stores and 43,000 employees nationwide – refused to close their stores despite being deemed a nonessential business (subsequently, a Dallas judge accused the company of endangering public health).
In April, Hobby Lobby furloughed almost all store employees and the majority of corporate and distribution employees without notice. They also ended emergency leave pay and suspended the use of company-provided paid time off benefits for employees during the furloughs – a decision that was widely criticized by the public, although the company claims the reason for this was so that employees would be able to take full advantage of government handouts during their furlough.
However, the furloughs are not Hobby Lobby's first moment under fire. The Oklahoma-based Christian company won a 2014 Supreme Court case – the same year they initially raised their minimum wage – that granted them the right to deny their female employees insurance coverage for contraceptives.
Also, Hobby Lobby settled a federal complaint in 2017 that accused them of purchasing upwards of 5,000 looted ancient Iraqi artifacts, smuggled through the United Arab Emirates and Israel – which is simultaneously strange, exploitative, and highly controversial.
Why does this all matter? While raising their minimum wage to $17 should be regarded as a step in the right direction regarding the overall treatment of employees (and, hopefully, $17 becomes the new standard), Hobby Lobby is not without reason to seek favorable public opinion, especially during a pandemic. Yes, we should be quick to condone the action of increasing minimum wage, but perhaps be a little skeptical when deeming a company "good" or "bad".