Study: Workers are ghosting employers (why are you surprised?!)
(BUSINESS NEWS) A new study "reveals" that employees are ghosting employers, but y'all, this isn't new (and it CAN be fixed).
Well, well, well, looks like some Boomers learned what ghosting means and published a study about how Millennials do it all the time in jobs. Are we surprised?

Here's the sad truth, though: this has always been an issue with low-paying jobs.

Income inequality is at one of its highest points in modern American history, and with many jobs involving low wages, long hours, and service-oriented roles, it's easy for an employee to walk out when it's a less than ideal working environment.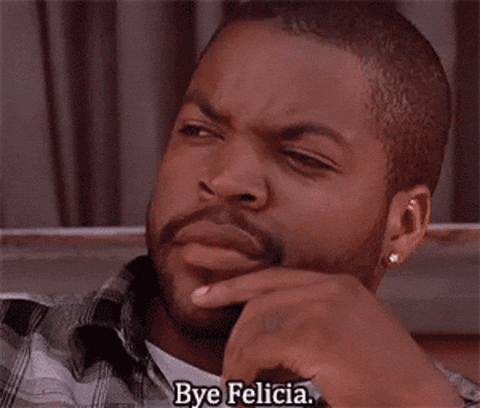 With a lack of fair-paying jobs and an abundance of low-paying, minimum wage jobs, it's easy for employees to come and go as they please — often without telling their employers. When it comes to crappy jobs, in the words of Jay Z, on to the next one.

I know what you're thinking: as an entrepreneur, you're already strapped for cash and everyone's probably already working the job that three employees would typically perform, so how are you supposed to run a heckin' company with like, no money, and employees that ghost?

We have a few ideas on how to make your work environment so employees don't peace out at the first sign of trouble. Stick with us here.
Pay attention to your culture.

Your culture is always going to be created top-down, meaning, you get to set the tone. No job is perfect, even ones you create for yourself, so ask yourself: are your employees having fun? Do they like each other? Are you having fun? Do you like what you do? If not, what do you need to change to make the answers to these questions a resounding yes.

If you're constantly stressed, that's going to trickle down to your employees. Make sure you cultivate a culture of hard work, kindness, and fun. And that starts with you.

Squash gossip and toxic environments.

Work politics suck. We all know this. And yet, it still exists everywhere. In small companies, one employee can make or break the whole environment. If you hear employees gossiping — or even griping to you — squash it immediately and kindly let it be known it won't be tolerated. If an employee continues to cultivate a toxic environment, it's time to let them go.

Allow generous time off and flexible schedules.

If you can't pay your employees handsome wages, try to give them flexibility when it comes to work schedules and time off. This will be one of your biggest secret weapons, you management ninja, you.

If you allow an employee to take off (within reason) for doctors' appointments, sick days, and much-needed R&R, it'll definitely be noticed and appreciated. Allow them to work remotely when needed and work the hours where they'll be the most productive. But most of all — simply trust them, and people will knock down your door to work for you.

Allow growth opportunities.

Make sure to set aside plenty of time to talk with employees and hear their likes, dislikes, and concerns about their jobs. Find out what they love to do, and give them opportunities to grow in those areas and take ownership of them. Do they love social media? Live for spreadsheets? Let them take small projects or help them find mentors. Encourage them to attend local meetups and conferences.

Thank your employees.

No employee likes a stressed-out tyrant. What have you done lately to truly thank your employees?

It doesn't have to be a Chuck-E-Cheese style pizza party, but find both small and big ways to know your employees you're thankful for them. It can include paying for a round at a team happy hour, generous employee discounts, or simply saying thank you for all of their hard work, and how specifically you've appreciated their efforts. Be authentic and genuine, and it'll go a long way.

How have you made your company a great place to work and avoid losing talent?

Is insecurity the root of overworking in today's workforce?
(CAREER) Why are professionals who "made it" in their field still chronically overworked? Why are people still glorifying a lack of sleep in the name of the hustle?!
So you got that job you wanted after prepping for months, and everything seems cool and good… but you're working way more hours than scheduled. Skipping lunch, coming in early and staying late, and picking up any project that comes your way. You're overworked.
Getting the job was supposed to be a mark of success in itself, but now, work is your life and everyone is wondering how you can be working so much if you're already successful.
In an article for Harvard Business Review, Laura Empson delves into what drives employees to overwork themselves. Empson is a professor of Management of Professional Service firms at the University of London, and has spend the last 25 years researching business practices.
Her recently published book Leading Professionals: Power, Politics and Prima Donnas, focuses on business organizational theory and behavior, based on 500 interviews with senior professionals in the world's largest organizations.
Over the course of her research, Empson encountered numerous reports of people in white-collar positions pushing themselves to work exhausting hours. Decades ago, those with white-collar jobs in law firms, accountancy firms, and management consultancies worked towards senior management positions to gain partnership.
Once partnership was reached, all the hard work paid off in the form of autonomy and flexibility with scheduling and projects. Now, even entry-level employees are working overextended hours.
An HR director interviewed by Empson noted, "The rest of the firm sees the senior people working these hours and emulates them." There's a drive to mirror upper management, even at the cost of health.
Empson's research indicates insecurity is the root of this behavior. Insecurity about when work is really done, how management will perceive employees, and what counts as hard work. Intangible knowledge work provokes insecurity since there's rarely ever a way to tell when this work is complete.
Colleagues turn into competitors, and suddenly working outside of your regular hours becomes seen as normal if you want to keep up with the competition. You want to stand out from the crowd, so staying late a few days a week starts to feel normal.
This can turn into a slippery slope, and when being overworked feels like the norm, you may not notice taking on even more extra hours and responsibilities to feel like you're contributing efficiently to the company.
During her research, Empson found that some recruiters admitted to hiring "insecure overachievers" for their firms.
Insecure overachievers are incredibly ambitious and motivated, but driven by feelings of inadequacy. Financial insecurity and disproportionately tying self-worth to productivity are just a few contributing factors to their self-doubt.
As a result, these kind of people are amazingly self-disciplined, and likely to pursue elite positions with professional organizations. Fear of being exposed as inadequate drives insecure employees to work long hours to prove themselves
Even upper level management is subject to this same insecurity.
Organizational pressures can make even the most established leader overwork themselves.
Empson notes, "Working hard can be rewarding and exhilarating. But consider how you are living. Recognize when you are driving yourself and your staff too hard, and learn how to help yourself and your colleagues to step back from the brink."
Analyze your organization's conscious and unconscious messaging about achievement, and make sure you're setting and enforcing realistic expectations for your team.
How employers should react to the new age discrimination court ruling
(BUSINESS NEWS) A court case that could likely land in the Supreme Court is one that all employers should react to and prepare for.
In January, the 7th Circuit Court of Appeals determined that then 58-year-old Dale Kleber did not get protection against age discrimination from CareFusion as a job applicant.

For employers, there are some important takeaways. Namely, that Kleber v CareFusion does not give employers open season to only hire young workers.
The Age Discrimination in Employment Act (ADEA) protects employees against age discrimination. There are also protections against disparate treatment under ADEA.

Basically, employers cannot intentionally discriminate against aged applicants. When posting a job, that means you should never advertise for someone under the age of 40 when posting job descriptions.
While Federal law may not apply to older applicants, the Texas Labor Code,  for example prohibits discrimination against people over 40 years of age. Employers should be very aware of inequity throughout the hiring process, whether you're looking at internal or external candidates. You do not want to be a test case for age discrimination.
How can you avoid violating ADEA and other applicable laws?

First, you should work with your legal counsel and HR department to make sure you are following the law. If you are accused of age discrimination, you should talk to your lawyer before responding. It's a serious complaint that you shouldn't try to answer on your own.
Next, go through your job postings to make them age-neutral unless there is a reason for hiring someone under the age of 40. The legal term for this is Bona Fide Occupational Definition. The qualifications can't be arbitrary. There must be industry standards that determine a definable group of employees cannot perform the job safely.  
Words in applications matter. Don't ask for GPA or SAT scores. Avoid things like "digital native," "high-energy," or "overqualified." These terms indicate that you're looking for someone young.  
You should also update application forms that request birthdays or graduation dates. According to the Society for Human Resource Management, you should structure interviews around skill sets, not personal information.
Train those responsible for hiring about the current laws in your state.

Make your managers aware of bias, both conscious and unconscious. It's not age discrimination that runs afoul of the law, and you must be prepared to confront any situation where it occurs.
Talk about age bias and discrimination in your workplace. Don't assume that older workers aren't tech savvy or that they don't want to keep their skills current. Instead of putting generations against each other, have a multigeneration workplace.
Cities are fighting back against the motorized scooter companies
(BUSINESS NEWS) The scooter wars are on, and major cities are filled with them – residents and government are finally fighting back.
When the scooter-pocalypse began, it seemed to come out of nowhere. One day, the most annoying thing in downtown traffic was maybe a pedicab, and then the next: a swarm of zippy electric razor scooters.

This sudden arrival was by design: companies like Lime and Uber's JUMP simply just began offering their services. There was no negotiation with the city, no opportunity even for residents to say whether or not the scooter pick-up stations could be located in front of their houses—just a sudden horde of scooters (for the record, this do-it-first and then ask permission approach was replicated in all major cities across the United States).
Was this illegal? Nope. There was nothing on the law books about the rental scooter technology so there was technically nothing wrong with the companies just assuming that they could do what they wanted. (Some scooterists have since come to think the same thing, committing crimes and breaking rules.)
Now, enough time has passed for cities to have the opportunity to fight back, as a new year of legislative sessions has begun. San Francisco is one such community, which determined that only permitted companies could operate within the city limits—and, surprise, many of the don't-ask-permission companies were not given these permits.
Lime, blocked from operating, filed a suit against the city saying that they had been discriminated against based on their … rude … arrival.

A judge has since ruled that there was no bias in the city's review of the permit applications that were later not awarded to Lime.
As the legislation and the lawsuits play out over the next year, it will be interesting to see if the scooter company's attitudes toward the cities they operate in change.

If, as they have said all along, they desire to be the next major innovation in urban infrastructure, then they need to be prepared to work with and grow alongside the communities that they inhabit.

It would be a wise move, then, to partner with local governments to ensure that both organizations are working in the best interest of the populations that they serve.