Study: Workers are ghosting employers (why are you surprised?!)
(BUSINESS NEWS) A new study "reveals" that employees are ghosting employers, but y'all, this isn't new (and it CAN be fixed).
Well, well, well, looks like some Boomers learned what ghosting means and published a study about how Millennials do it all the time in jobs. Are we surprised?

Here's the sad truth, though: this has always been an issue with low-paying jobs.

Income inequality is at one of its highest points in modern American history, and with many jobs involving low wages, long hours, and service-oriented roles, it's easy for an employee to walk out when it's a less than ideal working environment.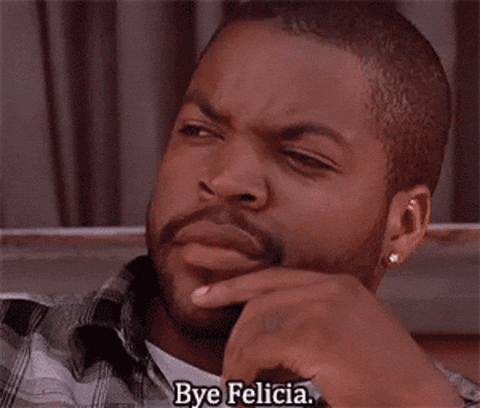 With a lack of fair-paying jobs and an abundance of low-paying, minimum wage jobs, it's easy for employees to come and go as they please — often without telling their employers. When it comes to crappy jobs, in the words of Jay Z, on to the next one.

I know what you're thinking: as an entrepreneur, you're already strapped for cash and everyone's probably already working the job that three employees would typically perform, so how are you supposed to run a heckin' company with like, no money, and employees that ghost?

We have a few ideas on how to make your work environment so employees don't peace out at the first sign of trouble. Stick with us here.
Pay attention to your culture.

Your culture is always going to be created top-down, meaning, you get to set the tone. No job is perfect, even ones you create for yourself, so ask yourself: are your employees having fun? Do they like each other? Are you having fun? Do you like what you do? If not, what do you need to change to make the answers to these questions a resounding yes.

If you're constantly stressed, that's going to trickle down to your employees. Make sure you cultivate a culture of hard work, kindness, and fun. And that starts with you.

Squash gossip and toxic environments.

Work politics suck. We all know this. And yet, it still exists everywhere. In small companies, one employee can make or break the whole environment. If you hear employees gossiping — or even griping to you — squash it immediately and kindly let it be known it won't be tolerated. If an employee continues to cultivate a toxic environment, it's time to let them go.

Allow generous time off and flexible schedules.

If you can't pay your employees handsome wages, try to give them flexibility when it comes to work schedules and time off. This will be one of your biggest secret weapons, you management ninja, you.

If you allow an employee to take off (within reason) for doctors' appointments, sick days, and much-needed R&R, it'll definitely be noticed and appreciated. Allow them to work remotely when needed and work the hours where they'll be the most productive. But most of all — simply trust them, and people will knock down your door to work for you.

Allow growth opportunities.

Make sure to set aside plenty of time to talk with employees and hear their likes, dislikes, and concerns about their jobs. Find out what they love to do, and give them opportunities to grow in those areas and take ownership of them. Do they love social media? Live for spreadsheets? Let them take small projects or help them find mentors. Encourage them to attend local meetups and conferences.

Thank your employees.

No employee likes a stressed-out tyrant. What have you done lately to truly thank your employees?

It doesn't have to be a Chuck-E-Cheese style pizza party, but find both small and big ways to know your employees you're thankful for them. It can include paying for a round at a team happy hour, generous employee discounts, or simply saying thank you for all of their hard work, and how specifically you've appreciated their efforts. Be authentic and genuine, and it'll go a long way.

How have you made your company a great place to work and avoid losing talent?

Class action suit hits vape company, Juul for illegally marketing to teens
(BUSINESS NEWS) Juul is a tiny vape stick that is popular among teens, a population the company is allegedly marketing directly to, grooming a new generation of addicts.
This week, a class-action lawsuit has been filed against Juul for violating federal laws by marketing to American children.
Illinois Senator Dick Durbin and ten of his Democratic colleagues have written a letter to the CEO of Juul Labs, lambasting the e-cigarette company for prioritizing profits over public health. The biggest concern among the complaints that both the legislators and parents across country have against the vaping-tobacco giant is that Juul purposefully advertises their products for teenagers.
Juul denies such intent, claiming that their product (which has taken over two-thirds of the e-tobacco market according to some sources) is primarily to help traditional adult tobacco consumers quit smoking cigarettes. They've even released an ad recently that tried to emphasize this image.
However much they try to pivot to this e-cigarette as a self-care market, their own history is against them. According to the research of Robert Jackler, as profiled on the Smithsonian, the imagery that Juul uses in its advertisements is a throwback to the unregulated day of big tobacco in how it overtly entices youth. This is a part of a growing public health crisis.
Juul first became famous for looking like a USB drive, and became used widely by school children who could trick teachers into thinking they were carrying a harmless device, not a nicotine machine.
One of Jackler's insights is that today's teenagers were never as likely to begin smoking traditional cigarettes as people from the late 80s and 90s, so they were an untapped market. The New York Times, reporting on the increasing public pressure the FDA faces to regulate the e-tobacco industry, even went so far as to ask, "Did Juul lure teenagers and get customers for life?"
Juul's reach to the younger generation was also confirmed by a team of researchers from Stanford University. By analyzing social media posts from Juul's launch in 2015 to last fall, the Stanford team concluded that where Juul's real innovation in the smoking and e-cigarette industry was not its product, but the way that it mobilized social media to hook young consumers.
According to an interview with Stanford researchers, "Juul hired social media influencers — people with large followings on Instagram — to promote its products. It created hashtags — #juul, #juulvapor, #switchtojuul, #vaporized — that the influencers blasted out to their followings, often featuring images of young people Juuling, or doing tricks or jokes with their device."
The company shut down its social media accounts last year, but the damage was done. The hashtags are still updated daily.
This sort of bait-and-switch advertising extends beyond Juul's young American audience and their marketing efforts.
Take for example, an Indian company that recruited Pierce Brosnan for what he believed was a commercial for a breath freshener line. Instead, it was a type of tobacco product called pan bahar (it is similar to chewing tobacco). The star said that he wasn't aware of the nature of the product, that the company didn't disclose its harmful effects, saying that he wouldn't have chosen to endorse it otherwise, as he has lost family members to cancer.
Not wanting to endorse tobacco product, of course, is a commendable stance for Brosnan. But where are the social media influencers that continue to take money from Juul to target teens? Where is their rejection? They could very easily take a cue from Brosnan and say they were unaware, but instead, continue to force feed hashtags down unsuspecting childrens' figurative throats.
Juul can call themselves an alternative to smoking all they want, but if even our politicians can see through the B.S., Juul has a real problem.
High School 'Signing Day' for seniors starting careers, not sports or college
(BUSINESS NEWS) Our culture has long glorified athletic accomplishments, but as technical trades flourish in America, celebrating that career path is a new move – one we applaud!
The scene is familiar: excited students at a table overlooking proud parents and teachers with letters of intent before them. "Signing Day" has become a rite of passage for high school seniors intending to continue a sport in college.
However, Henrico County Public Schools in Virginia are celebrating students beginning careers immediately after graduation.
Instead of joining a college football or basketball team, these students are acknowledged for entering the workforce, and for seeking success and financial stability as opposed to going into massive debt by enrolling in college.
College has become a norm in society in spite of the financial risks, and job placement is no guarantee for graduates. The option is not for everyone, and we should be doing more to recognize those who are pursuing technical skills. The objective of education, at any level, is to prepare students for a successful career.
By definition, these seniors from Henrico County have taken the first step towards that goal.
At the signing ceremony, the students met with their future employers to sign letters stipulating what they would do throughout their employment, and outlining the training and benefits. It is a big affair, and in an era where promposals (ugh) are a thing, why not glorify and enthusiastically praise in public an alternative Signing Day?
Students wore hats and shirts representing their future place of employment, and it is worth noting that this is a moment to celebrate adulthood, and making strides towards independence.
Technical skills are in demand, and it's about time we lift up tradesmen and tradeswomen across the country. Their contributions help make our communities stronger.
Students should feel encouraged to pursue paths towards success which best suits their individual goals. And there is nothing wrong with celebrating them as a community, and hopefully someday, as a society.
How the Lean concept can have the biggest impact on your bottom line
(BUSINESS) Using the Lean business concept and asking the non-sexy question of "What's dumb around here?" your business will outpace your competitors in no time.
Entrepreneurs love solving problems. That's what they're good at doing. In fact, the more complex, difficult and messy the problem, the more the entrepreneur will enjoy the challenge. Entrepreneurs are especially good at solving problems that nobody knew were there. Think about Steve Jobs: He knew that we needed a pocket MP3 player before we even knew what it was.
While entrepreneurs are coming up with the next "big" thing, we need the non-entrepreneurs in our organizations focused on solving the small problems in our company with the same enthusiasm. Imagine if every one of your team members were consistently looking for opportunities to improve your systems, processes and service delivery. Those subtle changes made in the non-sexy parts of the business usually have the biggest impact on the bottom line.
This is a business concept called Lean, in which a company changes their processes to create the most benefit to the customer using the least amount of resources possible. Lean is commonly used in the manufacturing industry, but its principles can be used in any business to change the way of thinking and doing things.
I recently witnessed a great example of how Lean principles were used to improve one of my clients, LuminUltra – a leading provider of microbiological testing hardware, software and services. The company serves industries that need to know quickly and accurately what's living in their water. At a recent quarterly planning session at the LuminUltra offices in Fredericton, Canada, COO Charlie Younger shared a powerful story about the company's manufacturing facility and challenging the status quo.
During the expansion of the company's manufacturing facility, one of the team members was lamenting to Charlie about how much time it took to complete a lengthy step of the manufacturing process – one specific quality check that was very time-consuming. He remarked that in the history of the company they never had a single machine fail the test. Charlie's first thought was, do they even need to perform this specific test again?
After more discussion with colleagues, the team realized that the other quality checks performed earlier in the manufacturing process would always identify a defective unit. With this knowledge, the manufacturing team asked for permission to perform minimal testing to still provide assurance with less work. When presented with the information, the company leadership agreed that it was a great idea and would save time and money as well as improve the employee experience. But the bigger question was: Why hadn't anyone ever questioned this lengthy step of the manufacturing process before?
Charlie, having run Lean programs in the past, has seen this issue before: People continue to do what they've always done even if they think there is a better way. He thought this would be a great opportunity to use a fun, simple but elegant technique to capture other status quo breakers – in other words, he decided to use the same principles for changing the company's production process to make other company decisions.
With that, he posted a whiteboard in the manufacturing room with the title "What's Dumb Around Here?" and encouraged team members to capture possible "dumb things" to add to it. These topics are discussed and vetted during their Lean process meetings to determine if they can be improved.
When I discussed the new process with Charlie, he noted, "First, you have to create an environment where people are willing to question the status quo. We have always been highly focused on quality and accuracy, so the team thought it was outrageous to openly question a quality check we had been performing for years."
He continued, "You have to help your management team be open to receiving ideas that might seem crazy and not overreact to the suggestions. Instead, simply ask them to explain their logic. More often than not, the front line knows a better way to do things but does not know how to navigate the change. The beauty of using Lean techniques is that you now have an easy navigation path to discuss, approve and roll out changes. Suddenly, you have an energized front line solving problems with minimal involvement from management – how great is that?"
While LuminUltra continues to grow their product line and expand into new markets, it expects that its implementation of Lean principles will help it make subtle but important modifications to processes that will positively affect its bottom line. The CEO, Pat Whalen, remarked, "If we can produce our products faster and more cost effectively and get them into the hands of our customers faster, we can have an even bigger impact on the water sector with our microbiological monitoring products. I need all of our team members thinking how we can improve every single day. The water sector needs us."
Every visionary, big-thinking entrepreneur needs a team that challenges the status quo. How are you encouraging your team members to identify, "What's Dumb Around Here?"