Study: Workers are ghosting employers (why are you surprised?!)
(BUSINESS NEWS) A new study "reveals" that employees are ghosting employers, but y'all, this isn't new (and it CAN be fixed).
Well, well, well, looks like some Boomers learned what ghosting means and published a study about how Millennials do it all the time in jobs. Are we surprised?

Here's the sad truth, though: this has always been an issue with low-paying jobs.

Income inequality is at one of its highest points in modern American history, and with many jobs involving low wages, long hours, and service-oriented roles, it's easy for an employee to walk out when it's a less than ideal working environment.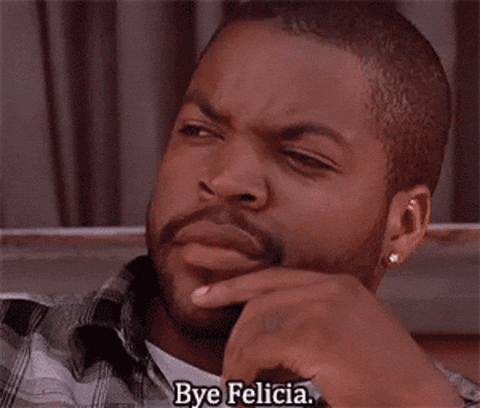 With a lack of fair-paying jobs and an abundance of low-paying, minimum wage jobs, it's easy for employees to come and go as they please — often without telling their employers. When it comes to crappy jobs, in the words of Jay Z, on to the next one.

I know what you're thinking: as an entrepreneur, you're already strapped for cash and everyone's probably already working the job that three employees would typically perform, so how are you supposed to run a heckin' company with like, no money, and employees that ghost?

We have a few ideas on how to make your work environment so employees don't peace out at the first sign of trouble. Stick with us here.
Pay attention to your culture.

Your culture is always going to be created top-down, meaning, you get to set the tone. No job is perfect, even ones you create for yourself, so ask yourself: are your employees having fun? Do they like each other? Are you having fun? Do you like what you do? If not, what do you need to change to make the answers to these questions a resounding yes.

If you're constantly stressed, that's going to trickle down to your employees. Make sure you cultivate a culture of hard work, kindness, and fun. And that starts with you.

Squash gossip and toxic environments.

Work politics suck. We all know this. And yet, it still exists everywhere. In small companies, one employee can make or break the whole environment. If you hear employees gossiping — or even griping to you — squash it immediately and kindly let it be known it won't be tolerated. If an employee continues to cultivate a toxic environment, it's time to let them go.

Allow generous time off and flexible schedules.

If you can't pay your employees handsome wages, try to give them flexibility when it comes to work schedules and time off. This will be one of your biggest secret weapons, you management ninja, you.

If you allow an employee to take off (within reason) for doctors' appointments, sick days, and much-needed R&R, it'll definitely be noticed and appreciated. Allow them to work remotely when needed and work the hours where they'll be the most productive. But most of all — simply trust them, and people will knock down your door to work for you.

Allow growth opportunities.

Make sure to set aside plenty of time to talk with employees and hear their likes, dislikes, and concerns about their jobs. Find out what they love to do, and give them opportunities to grow in those areas and take ownership of them. Do they love social media? Live for spreadsheets? Let them take small projects or help them find mentors. Encourage them to attend local meetups and conferences.

Thank your employees.

No employee likes a stressed-out tyrant. What have you done lately to truly thank your employees?

It doesn't have to be a Chuck-E-Cheese style pizza party, but find both small and big ways to know your employees you're thankful for them. It can include paying for a round at a team happy hour, generous employee discounts, or simply saying thank you for all of their hard work, and how specifically you've appreciated their efforts. Be authentic and genuine, and it'll go a long way.

How have you made your company a great place to work and avoid losing talent?

Survey indicates that small businesses are optimistic despite COVID-19
(BUSINESS NEWS) Facebook survey captures tumult of spring 2020 on small and medium business, with a dash of optimism going into the summer.
This story contains information that probably will not evoke shock and awe by now, but is nonetheless upsetting. Stop now and check to see if you need a news cycle break before ingesting more garbage depressive news about the economy – but if you can wade through it, I promise it ends on a high note!
Though Facebook CEO Mark Zuckerberg is running amuck in the political world like one of those signs at restaurants that say "unattended children will be given ice cream and a puppy," Facebook continues to effectively build an online community of more than 2.6 billion people worldwide – including more than half of the population in the United States. Given their audience and ease of access to business owners, they decided to use their powers for good for once to survey small and medium businesses.
The survey returned responses from 38,078 business owners and managers, 39,104 employees, and 8,694 personal enterprises in the United States (total of 85,876 respondents). Respondents' industries spanned manufacturing, retail, services, logistics, hospitality, construction, and agriculture. Thirty-three percent of businesses were urban, forty-two percent were urban, and twenty-five percent were rural.
Here's where it gets depressing: thirty-one percent of businesses reported closing in the last three months, with 71 percent of those closing since March 1. For personal businesses, 52 percent are closed. Of those businesses still operating, 60 percent reported a reduced workload, and 60 percent also report struggling with finances. Employee wages, bills, and rent were the top areas of financial concern.
So how is this important segment of the economy surviving the crisis? Forty-one percent of business owners and managers said they could pull from personal savings, but 45 percent said zero-interest loans were the most helpful option to subsidize lost business.
Unsurprisingly, 79% of businesses say they have made some change to operations to accommodate their customers and keep things moving, like using digital tools and delivery services.
The survey found some interesting geographical differences, for example, that businesses in the Southeast have made slightly more physical adjustments to business like offering curbside pickup and home delivery. They also found differences in strategy by leadership gender: "Businesses led by women are more likely to be using digital tools, particularly with online advertising (43%) and digital payment tools (40%), compared to just 37% and 34%, respectively, of businesses led by men." And the differences don't stop at the strategic level. More women owner-managers (33%) reported that managing life in a pandemic at home was affecting their ability to focus on work than men (25%).
Amongst all the chaos, people are optimistic about the future. In fact, 57% of owner-managers are optimistic or extremely optimistic about the future of business. For employees, the results were surprisingly similar. Even though only 45% of SMB owner-managers and 32% of personal businesses reported that they would rehire the same workers when their businesses reopened, 59% of both the employed and unemployed were at least somewhat optimistic about their future employment.
And now for a quote from President Barack Obama's 2008 New Hampshire Primary speech amidst our last recession, without a smidge of tacky irony or liberal preaching: "We've been warned against offering the people of this nation false hope. But in the unlikely story that is America, there has never been anything false about hope. For when we have faced down impossible odds; when we've been told we're not ready, or that we shouldn't try, or that we can't, generations of Americans have responded with a simple creed that sums up the spirit of a people: 'Yes we can.'"
Who will get to work from home once COVID-19 stay-home orders are over?
(BUSINESS NEWS) Many large tech firms review and update their work from home policies. This could be presented as THE biggest work perk of 2021.
The large tech firms that we all know and use frequently are making big announcements on their timing and policies for their employees to work from home as updates on COVID-19 come in.
Square and Twitter have said many employees will work from home indefinitely – even after states begin to open back up. Google, Facebook, and Microsoft have all extended dates on returning to offices. You can read more details here on The Verge.
Let's break down some pros and cons – especially if this means that working from home will become the hottest recruiting tool in the future. Like ping pong tables and Friday at 4pm beer carts once were.
Some high-level things that contribute to why people love (or tolerate) their W2 jobs:
They like the PEOPLE they work with
They have a feeling of purpose, and genuinely enjoy the work
There are miscellaneous perks (gym membership reimbursement, free cafeterias, personal development workshops, tuition reimbursement, travel opportunities)
Their employer helps to pay for healthcare benefits, and makes 401K contributions
Their team rotates, and they get to work from home once in a while*
*This is nice to allow some flexibility. Employees can choose to treat their morning how they would like (maybe wake up a little later, or enjoy their coffee at a coffee shop). It allows them to not rush out the door to sit in traffic, or on the bus or train. They can take the day off of wearing real pants, and work in pajamas. Heck, they can even save time on Saturday or Sunday by doing the laundry on their work from home (WFH) day. It could also be a great opportunity to fit in doctor appointments, or have real quality focus time – missing less of the work day.
This is NOT an implication that people work less that day, in fact working from home, you usually work more because there are not things that force you to break up the day like the commute, meetings, or lunch with your colleagues.
Some high-level things that might contribute to the desire to be an entrepreneur:
Your work is a main piece of your identity – usually being a product or service that YOU created, and it leverages a perfect marriage of your talents, skills, and passions
You likely get to be your own boss, and make your own creative decisions
You constantly have the opportunity to learn, and this can be great for those who love the constant change and challenges
It's just never really worked out for you to work for someone else, or for a corporation
Something drives you to build something of your own
Working from home* in all its glory
*A common misconception of the entrepreneurship or freelance lifestyle is that you work from home or a coffee shop, and it's oh so very sexy and freeing, and you get to do whatever you want whenever you want. While arguably, yes, you do have more control over your schedule, and there are perks to your own business; likely you are working 24/7, and wearing every single hat from the Producer to Customer Services to Finance to the Accounting department. This requires you to be really open to learning or knowing what you don't know, and possibly hiring experts.
So, moving forward, will the "you can work remotely! From wherever you'd like" become the hottest recruiting trend of 2021? Here's why we predict that may not be the best way to move forward.
People are social creatures. Working from home sporadically vs 100% of the time are two completely different things. You could possibly lose the momentum with your teams if they no longer know and trust one another. Plus, no doubt there will be turn-over, and when there are numerous parts and teams, it can be helpful for them to have in person experiences together.
Does this make sense for the commercial real estate industry, and the leases that have been signed? It's unlikely that many large corporations just perfectly timed their leases that align with COVID-19. Many will likely want to bring people back just for that fact.
All of this takes an enormous amount of money, additional tech support, and infrastructure, (not to mention mailing costs for all office equipment, etc.) and it's not possible that only the most profitable firms will prevail and be able to do this.
How would large cities (read: high cost of living) like the Bay Area be able to retain talent, and/or why would you pay to live there if you can live anywhere. This could drastically shift urban planning and development.
We just don't see it moving all the way to the extreme of all knowledge workers working from home indefinitely. If you want to see how people are feeling about working from home, you have to check out this Buzzfeed article, "Zoom Fatigue is Real, And You Probably Have It If You Relate to These 16 Tweets."
Weight Watchers lays off 4K employees on a brief Zoom call #cold
(BUSINESS NEWS) WW fires thousands of employees over Zoom, no questions asked or answered. So much for Wellness that Works, live up to your motto.
WW International, formerly known as Weight Watchers, fired thousands of employees on a 3-minute phone call on Thursday, May 14. The call was muted so participants could not ask questions. Employee emails were closed by the weekend.
It is unclear exactly how many employees were let go, with some reporting up to 4,000. WW has declined to report the number. Laid off employees were both part-time and full-time. Some had been working for WW for more than a decade.
WW has been slowly shifting its services online, including building a comprehensive app for users to track their food. Founded in 1963, the weight loss company has come a long way from paper-and-pencil weight tracking. In 2018, the company changed its name from Weight Watchers to WW, adopting the slogan "Wellness that Works," in a move to fully embrace the trendy wellness and self-care movements that have gripped younger audiences.
CFO Nick Hotchkin said, "It wasn't practical to have all of the conversations be one on one."
WW has staked its claim on empathy. They have cultivated a community of people motivated to lose weight, and support others on the same journey to also live a healthier lifestyle. Many WW employees are former customers who were so committed to the mission they wanted to join the community as a coach or meeting leader. The company offered many part-time roles that fit the schedules of full-time mothers, their primary demographic of clients from its inception.
Firing swaths of employees over Zoom calls is the latest form of cruelty in the employment chaos that the coronavirus pandemic has inflicted on the economy. But companies can make choices – especially international mega-companies that bring in more than a billion dollars in revenue annually.
Has WW no sense of irony? Just two days before this call, WW announced a free, four-week virtual experience led by Oprah Winfrey, a WW investor, client, and champion.
"Now, it's more important than ever to be and stay well and strong. Together, let's reset, refocus and find clarity in what matters most," Oprah said of the program. Apparently, thousands of employees are not considered an asset to the togetherness of this occasion.
Of course, WW like many other companies has a right to let go employees in anticipation of changes in business. But if caring for your employees, and conducting layoffs with empathy, grace, and compassion is not on the list of "what matters most," then WW is sorely lacking mission alignment. It is severely disappointing to see a company driven by a compassionate mission act in such a callous way.