Study: Workers are ghosting employers (why are you surprised?!)
(BUSINESS NEWS) A new study "reveals" that employees are ghosting employers, but y'all, this isn't new (and it CAN be fixed).
Well, well, well, looks like some Boomers learned what ghosting means and published a study about how Millennials do it all the time in jobs. Are we surprised?

Here's the sad truth, though: this has always been an issue with low-paying jobs.

Income inequality is at one of its highest points in modern American history, and with many jobs involving low wages, long hours, and service-oriented roles, it's easy for an employee to walk out when it's a less than ideal working environment.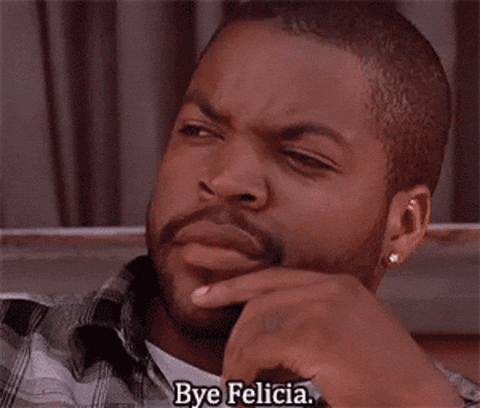 With a lack of fair-paying jobs and an abundance of low-paying, minimum wage jobs, it's easy for employees to come and go as they please — often without telling their employers. When it comes to crappy jobs, in the words of Jay Z, on to the next one.

I know what you're thinking: as an entrepreneur, you're already strapped for cash and everyone's probably already working the job that three employees would typically perform, so how are you supposed to run a heckin' company with like, no money, and employees that ghost?

We have a few ideas on how to make your work environment so employees don't peace out at the first sign of trouble. Stick with us here.
Pay attention to your culture.

Your culture is always going to be created top-down, meaning, you get to set the tone. No job is perfect, even ones you create for yourself, so ask yourself: are your employees having fun? Do they like each other? Are you having fun? Do you like what you do? If not, what do you need to change to make the answers to these questions a resounding yes.

If you're constantly stressed, that's going to trickle down to your employees. Make sure you cultivate a culture of hard work, kindness, and fun. And that starts with you.

Squash gossip and toxic environments.

Work politics suck. We all know this. And yet, it still exists everywhere. In small companies, one employee can make or break the whole environment. If you hear employees gossiping — or even griping to you — squash it immediately and kindly let it be known it won't be tolerated. If an employee continues to cultivate a toxic environment, it's time to let them go.

Allow generous time off and flexible schedules.

If you can't pay your employees handsome wages, try to give them flexibility when it comes to work schedules and time off. This will be one of your biggest secret weapons, you management ninja, you.

If you allow an employee to take off (within reason) for doctors' appointments, sick days, and much-needed R&R, it'll definitely be noticed and appreciated. Allow them to work remotely when needed and work the hours where they'll be the most productive. But most of all — simply trust them, and people will knock down your door to work for you.

Allow growth opportunities.

Make sure to set aside plenty of time to talk with employees and hear their likes, dislikes, and concerns about their jobs. Find out what they love to do, and give them opportunities to grow in those areas and take ownership of them. Do they love social media? Live for spreadsheets? Let them take small projects or help them find mentors. Encourage them to attend local meetups and conferences.

Thank your employees.

No employee likes a stressed-out tyrant. What have you done lately to truly thank your employees?

It doesn't have to be a Chuck-E-Cheese style pizza party, but find both small and big ways to know your employees you're thankful for them. It can include paying for a round at a team happy hour, generous employee discounts, or simply saying thank you for all of their hard work, and how specifically you've appreciated their efforts. Be authentic and genuine, and it'll go a long way.

How have you made your company a great place to work and avoid losing talent?

What's DMT and why are techies and entrepreneurs secretly taking the drug?
(BUSINESS) The tech world and entrepreneur world are quietly taking a psychadellic in increasing numbers – they make a compelling case, but it's not without risks.
Move over tortured artists and festival-goers, psychedelics aren't just for you anymore. An increasing number of professionals in Silicon Valley swear by "microdosing" psychedelic substances such as lysergic acid diethylamide(LSD) in efforts to heighten creativity and drive innovative efforts.
This probably isn't a shock to anyone following trends in tech and startups, particularly the glorification of the 8-trillion hour workweek (#hustle). But business owners, entrepreneurs, and technologists are also turning to other hallucinogens to awaken higher levels of consciousness in hopes of influencing favorable business results.
Dimethyltryptamine (DMT) is growing in popularity as business leaders and creatives flock to Peru or mastermind retreats to ingest the drug. It exists in the human body as well as other animals and plants. In his book DMT: The Spirit Molecule, Dr. Rick Strassman says "this 'spirit' molecule provides our consciousness access to the most amazing and unexpected visions, thoughts and feelings. It throws open the door to worlds beyond our imagination."
The substance is commonly synthesized in a lab and smoked, with short-lived effects (between five to 45 minutes, however, some say it lasts for hours).
Traditionally, however, it is extracted from various Amazonian plant species and snuffed or consumed as a tea (called ayahuasca or yage). The effects of DMT when consumed in this manner can last as long as ten hours. Entrepreneurs are attracted to the "ayahuasca experience" for its touted ability to provide clarity, vision and inventiveness.
Physical effects are said to include an increase in blood pressure and a raised heart rate. Users report gastrointestinal effects when taken orally, commonly referred to as the "purge." The purging can include vomiting or diarrhea, which makes for interesting conversation at the next company whiteboarding session.
Users are subject to dizziness, difficulty regulating body temperature, and muscular incoordination. Users also risk seizures, respiratory failure, or falling into a coma.
DMT can interfere with medications or foods, a reason why many indigenous tribes that work with it also follow specific dietary guidelines prior to ingestion. Not paying attention to diet or prescription medication prior to consuming ayahuasca or DMT can lead to the opposite of the intended effect, potentially even causing trauma or death.
So why the hell are people putting themselves through this ordeal?
Many claim profound mental effects, often experiencing a transformative occurrence that provides clarity and healing. Auditory and visual hallucinations are common, with reports of geometric shapes and sharp, bold colors. Many report intense out-of-body experiences, an altered sense of time and space or ego dissolution ("ego death").
Studies have indicated long-term effects in people who use DMT. Some report a reduction in symptoms of depression or anxiety.
Subjects in an observational study showed significant reductions in stress after participating in an ayahuasca ceremony, with effects lasting through the 4-week follow-up period.
Subjects also showed improvements in convergent thinking that were still evident at the 4-week follow up. People who consume DMT generally chronicle improvements in their overall satisfaction of life, and claim they are more mindful and aware after the experience.
It's important to note that dying from ayahuasca is rarely reported, but that doesn't rule out the risk. It's also illegal in the states, explaining why groups flock to Peru to visit licensed ayahuasca retreats or why technologists buy DMT on the dark web to avoid detection.
For those considering a DMT journey (and we don't recommend it based on the illegal nature and health risks), it's critical to gain a full understanding of the potential risks prior to consumption.
For more reading:
The race is on to develop the moon – a new private industry is born
(BUSINESS NEWS) Opportunity abounds as our world expands to the moon and to other planets, and the private sector is the fuel behind the expansion.
1979 was the last time a human being (let alone an American) set foot on the moon. During the Cold War, the space race to our nearest celestial body drove scientific research and government funding to put the Apollo 11 crew on a rock some two hundred and forty thousand miles away from our humble Earth's surface.
Ten years later, NASA stopped sending missions, and worldwide interest in lunar explorations fizzled out… until now. Now there are new players involved.
NASA has announced its Commercial Lunar Payload Services (CLPS) program to contract nine American companies to develop reusable rockets, robotic landers, and rovers for lunar missions in the 2020s.
The purpose of these explorations is to mine the moon for precious resources and water, to conduct long-term lunar science, and to eventually set up a permanent base.
Here are the partners: Astrobiotic Technology Inc., Deep Space Systems, Draper, Firefly Aerospace Inc., Intuitive Machines LLC, Lockheed Martin Space, Masten Space Systems, Inc., Moon Express, and Orbit Beyond.
The combination of national agency establishment and private industry innovation will help decrease the steep price tag that has cancelled and/or made difficult many a space mission. Currently, international collaborations are required since the large cuts in government spending to the space programs.
For example, Russian rockets help get American astronauts to the International Space Station. The Chinese lander, Chang'e-4, which successfully landed on the dark side of the moon in January, had partnerships with the Netherlands, Saudi Arabia, Sweden, and Germany. It's a huge team effort for these projects to work. If the U.S. is able to keep its operations domestic and between private entities, opportunity for competition arises, driving down costs.
Sounds great, right?
More chances for everyone to get to the moon. The what?
The next logical step is the commercialization of lunar travel and mining. Solar energy could be collected and beamed back to Earth, and thanks to the Moon's weak gravity, a permanent base can be used to launch further space explorations into our solar system. An entirely new market will open up, allowing more opportunities for people around the world to join in a new space race.
How the Lean concept can have the biggest impact on your bottom line
(BUSINESS) Using the Lean business concept and asking the non-sexy question of "What's dumb around here?" your business will outpace your competitors in no time.
Entrepreneurs love solving problems. That's what they're good at doing. In fact, the more complex, difficult and messy the problem, the more the entrepreneur will enjoy the challenge. Entrepreneurs are especially good at solving problems that nobody knew were there. Think about Steve Jobs: He knew that we needed a pocket MP3 player before we even knew what it was.
While entrepreneurs are coming up with the next "big" thing, we need the non-entrepreneurs in our organizations focused on solving the small problems in our company with the same enthusiasm. Imagine if every one of your team members were consistently looking for opportunities to improve your systems, processes and service delivery. Those subtle changes made in the non-sexy parts of the business usually have the biggest impact on the bottom line.
This is a business concept called Lean, in which a company changes their processes to create the most benefit to the customer using the least amount of resources possible. Lean is commonly used in the manufacturing industry, but its principles can be used in any business to change the way of thinking and doing things.
I recently witnessed a great example of how Lean principles were used to improve one of my clients, LuminUltra – a leading provider of microbiological testing hardware, software and services. The company serves industries that need to know quickly and accurately what's living in their water. At a recent quarterly planning session at the LuminUltra offices in Fredericton, Canada, COO Charlie Younger shared a powerful story about the company's manufacturing facility and challenging the status quo.
During the expansion of the company's manufacturing facility, one of the team members was lamenting to Charlie about how much time it took to complete a lengthy step of the manufacturing process – one specific quality check that was very time-consuming. He remarked that in the history of the company they never had a single machine fail the test. Charlie's first thought was, do they even need to perform this specific test again?
After more discussion with colleagues, the team realized that the other quality checks performed earlier in the manufacturing process would always identify a defective unit. With this knowledge, the manufacturing team asked for permission to perform minimal testing to still provide assurance with less work. When presented with the information, the company leadership agreed that it was a great idea and would save time and money as well as improve the employee experience. But the bigger question was: Why hadn't anyone ever questioned this lengthy step of the manufacturing process before?
Charlie, having run Lean programs in the past, has seen this issue before: People continue to do what they've always done even if they think there is a better way. He thought this would be a great opportunity to use a fun, simple but elegant technique to capture other status quo breakers – in other words, he decided to use the same principles for changing the company's production process to make other company decisions.
With that, he posted a whiteboard in the manufacturing room with the title "What's Dumb Around Here?" and encouraged team members to capture possible "dumb things" to add to it. These topics are discussed and vetted during their Lean process meetings to determine if they can be improved.
When I discussed the new process with Charlie, he noted, "First, you have to create an environment where people are willing to question the status quo. We have always been highly focused on quality and accuracy, so the team thought it was outrageous to openly question a quality check we had been performing for years."
He continued, "You have to help your management team be open to receiving ideas that might seem crazy and not overreact to the suggestions. Instead, simply ask them to explain their logic. More often than not, the front line knows a better way to do things but does not know how to navigate the change. The beauty of using Lean techniques is that you now have an easy navigation path to discuss, approve and roll out changes. Suddenly, you have an energized front line solving problems with minimal involvement from management – how great is that?"
While LuminUltra continues to grow their product line and expand into new markets, it expects that its implementation of Lean principles will help it make subtle but important modifications to processes that will positively affect its bottom line. The CEO, Pat Whalen, remarked, "If we can produce our products faster and more cost effectively and get them into the hands of our customers faster, we can have an even bigger impact on the water sector with our microbiological monitoring products. I need all of our team members thinking how we can improve every single day. The water sector needs us."
Every visionary, big-thinking entrepreneur needs a team that challenges the status quo. How are you encouraging your team members to identify, "What's Dumb Around Here?"