I woke up today with the feeling of "the blank slate." I can't remember begining a year with this feeling.
I'm not one for new year's resolutions, but as I sat and contemplated the feeling, my thoughts turned to the potential every day and every year holds for us. In fact, every moment and every meeting and every deal and – well, everything.
The feeling is somewhat akin to Beginners Mind.
Another thing I noticed was the tendency to want to fill up the blankness, to populate the field with thoughts, ideas, goals, activities and such. Being the genius I am, I recognized all of that as a movement to fill up today with the past. So, I took a raincheck and settled back into enjoying the feeling of life's potential.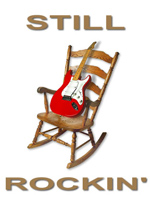 I'm kicking back today. Taking my "world famous" (a legend in my mind) chicken tortilla soup over to my brother's where he and his Still Rockin' friends will be jamming.
I have one small meeting planned for there that could be major for us this year. I have a new idea that could result in huge activity out of both of our farms this year and I want to get it up and running ASAP.
What I like the most about the blank slate/beginner's mind feeling is the sense of anticipated discovery. The future feels full of potential waiting to be revealed, enjoyed and engaged. I'm looking forward to it.