The Odysseus Medal is Handed out for the fist time ever, thanks for the recognition. It's things like this that make blogging worth the effort, thought, and energy, as it negates any hit counter.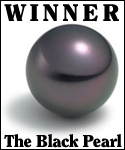 The Black Pearl is awarded to the entry that presents the best practical, technical or marketing idea of the week. This week that award goes to Benn Rosales for Mortgage drama, real estate bubble, tech crash, dotcom disaster. Here's the winning idea:
So now that we know it's coming, what shall we all do about it? I'm doing a few things like; creating a shortsale team to assist sellers, offering move-down programs to those who aren't so much in a bad way-yet, talking about it with sellers that call, offering advise on when to get out, and when to stay, talking to lenders about refinance options for those who might not need to move if we can do something now before they begin missing payments (not charging for that by the way, just guiding), calling past clients to see how they are, and that they're okay.